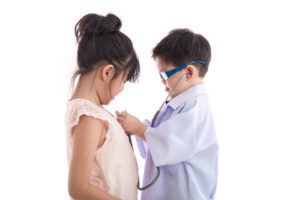 I don't like doctors. I always feel uncomfortable around them. When I am a patient I find myself second guessing everything the doctor says, wondering if he is getting it right. When one of my patients is a doctor I second guess everything I say, wondering if I am getting it right. It is extremely stressful.
As stressful as it is doctors are people and people need to go to the doctor, which is why I occasionally find myself seeing physicians in the office. One came in recently for an annual exam. I don't know if he was nervous, but I was.
I did my best to treat him as I would any other patient in my practice. I asked about his health history and I asked about his family. He started to share some of the issues he was facing, at one point pausing to say "You don't need to hear all this."
I told them I did want to hear it, that it was important to know all of the issues in his life. We spoke for quite a while about his work, his wife and his children. We talked about the challenges of balancing family life and medical practice as well as the work required to maintain a healthy marriage.
I did my best to encourage him but found myself wondering if I had succeeded. It is one thing to give guidance about a medical issue. Encouragement about personal issues is different. There is a significant risk of offense or coming across as condescending, especially with a colleague.
A few weeks later I received an email from the doctor. In it he thanked me for the personal advice, telling me that one thing I shared had truly impacted him. He wanted me to know that my personal touch had made a difference and that he hoped I continued to encourage others in the same way.
His note accomplished its intended purpose. I was encouraged. He reminded me that I need never be afraid to love and encourage the patients that God brings to my office. In the midst of the making diagnoses and developing  treatment plans I must never forget that sometimes caring is the most important part of medical care.
Thanks for reading, and thanks for sharing. I post only medically themed blog posts on this site. For my other posts, including posts of faith, family and culture, visit my personal site at www.bartbarrett.com